Jutsu are various techniques used by ninja in order to steer a battle in their favor, inflict damage to their opponents or make certain tasks easier. Their utility ranges from battlegrounds to bedrooms for mass destruction to seduction. Due to the extensiveness of the jutsu, they are divided into the following categories -
---
Taijutsu:
|
⇧ Back to Top ⇧
|
---
Main article: Taijutsu
Taijutsu techniques are the body and hand to hand skills of the ninja. Taijutsu techniques do not require hand seals. Instead the ninja will train their body in different forms of fighting.
A ninja can also use their inherent Bloodline abilities when doing Taijutsu techniques. Clans such as Hyūga can utilize their ability to see the inner chakra channels of their opponent and then stop the flow, or utilize the Kaiten technique to form a protective barrier by releasing chakra from their body.
---
Ninjutsu:
|
⇧ Back to Top ⇧
|
---
Main article: Ninjutsu
Ninjutsu (忍術; Literally meaning "Ninja Techniques") refers to any technique that utilizes chakra and allows the user to perform actions that a normal person otherwise would be incapable of doing. Unlike genjutsu, which causes the opponent to experience illusions, the effects of ninjutsu are real. Ninjutsu relies on chakra and, most of the time, hand seals to be effective.
Ninjutsu can be performed without handseals if the practitioner is skilled enough, and has enough experience with the jutsu being attempted.
---
Kinjutsu:
|
⇧ Back to Top ⇧
|
---
Main article: Kinjutsu
Kinjutsu (禁術; Literally meaning "Forbidden Techniques") are techniques that have been banned from being taught or used under normal circumstances. Only a few rare individuals who are considered qualified enough for a particular kinjutsu are granted the opportunity to learn it. Example: The Kage Bunshin is a kinjutsu only taught to jōnin or higher ranked ninja. The main reason for it is considered to be the high chakra costs. Some techniques such as Kuchiyose: Edo Tensei are tagged kinjutsu because of the moral reprecussions of bringing back the dead.
---
Genjutsu:
|
⇧ Back to Top ⇧
|
---
Main article: Genjutsu
Genjutsu (幻術; Literally meaning "Illusionary Techniques") are techniques that are employed in the same fashion as ninjutsu, requiring chakra and hand seals. However, the primary difference between the two is that the effects of genjutsu are illusory; instead of attacking the victim's body, genjutsu techniques manipulate the flow of chakra in the victim's brain, thus causing a disruption in their senses. This is often used to create false images or to cause pain from trauma (because the body is led to believe it is in pain); however, there are plenty of other uses depending on the situation.
---
Kenjutsu:
|
⇧ Back to Top ⇧
|
---
Main article: Kenjutsu
Kenjutsu (剣術; Literally meaning "Sword Technique") pertains to techniques that entail the use of swords, whether the users be shinobi or samurai.
---
Fūinjutsu:
|
⇧ Back to Top ⇧
|
---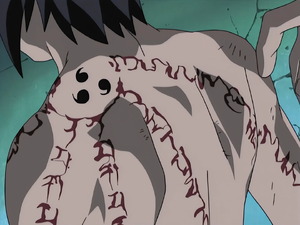 Main article: Fūinjutsu
Fūinjutsu (封印術, Sealing Techniques) are a type of jutsu that seal objects, living beings, chakra, along with a wide variety of other things within another object.
Fūinjutsu is consider the hardest to learn among all the ninja arts.
---
Dōjutsu:
|
⇧ Back to Top ⇧
|
---
Main article: Dōjutsu
Dōjutsu (瞳術; Literally meaning "Eye Technique") are genetic ninja abilities that utilize the eyes, enabling them to perceive chakra in some form or another. Being a by-product of specific kekkei genkai, dōjutsu are not classified as one of the major jutsu types. They do not require the use of hand seals and sometimes facilitate in the use or defense against genjutsu, taijutsu and ninjutsu and then defeat his or her opponent. All known dōjutsu also provide the user with some otherwise incapable ability, such as an extended field of vision or predictive capabilities. The use of Dōjutsu consumes chakra.
---